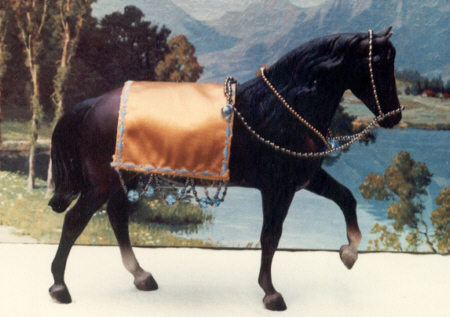 Touch of Magic--an Example of Kid's Play Set Costume
Pictured on Breyer El Pastor
Photo copyright Melody D. Snow
When Snow grew older, a family friend gave her a box of costume jewelry. This was obviously perfect for putting on model horses. With help from her grandmother, Snow made simple play sets out of beads, yarn, and satin.
In 1980, Just About Horses, the Breyer Animal Creations company newsletter, began offering free classified ads in their magazine. Snow's mother encouraged her to place an ad in the first issue featuring the classifieds (Volume 6, No. 1) . That was the beginning of Melody's Tack. Snow was only 14 years old.
Melody's Tack operated independently for a few years before being merged with her mother's corporation, Tender Loving Care Nursing and Related Services, Inc. When Snow got married Melody's Tack was officially dissolved and The Unicorn Woman was founded as a sole proprietorship.